The day I said "I do" ❤
I'm feeling a gush of excitement in me as I'm starting this entry. It is as though "The Proposal" just happened yesterday.
To be honest, I am not good in writing and recounting the event in detail is a pretty tough task to me. But I will try!
The "journey" started back in Dec (2015) / early Jan this year when Koon and I wanted to have a get-away before Chinese New Year. We decided on Bangkok because of the venue's affordability. Besides, Bangkok is a good place to get some CNY clothes. I was in charge of getting the flight tickets then and was sort of waiting for the 'right time' to buy but one random morning, Koon texted me and said he gotten the tickets already.
Throughout the following weeks, I kept pestering Koon for the booking details so I could come up with the itinerary (yea, we do up itineraries for nearby vacation trips too) but for some unknown reasons he just wouldn't. I wasn't persistent about it until I realised our trip was nearing. I wanted to make sure we have an itinerary in place so we can make good use of our time there to explore places we haven't been to. Come one Sunday noon.. he sent me a message and it goes:
The itinerary details stated "SIN to TOKYO (NRT)" and I thought my eyes were playing tricks on me. I also thought that the document was "photoshopped" and the conversation continued with my disbelief. Later on, we spoke on the phone and I remember asking Koon if this was a joke and he said "no, why would I give you false hopes?". Ok, I thought. Took me sometime to calm down because I was really excited. *LIKE OMG WE ARE GOING TO JAPAN!!* Imagine me hugging my bolster and rolling around on my bed ok; that was literally what I did. I was overwhelmed by the surprise! We've been wanting to go back to Japan since our trip in 2015 and now it's happening! (Surprise #1)
The difficult task was to inform my parents of my real trip; since I have already told them I will be going to BKK. It took me a really hard time to convince them because at that period, snow storms were hitting Japan and Tokyo was one of the affected areas. Reassured them that we will stay safe and be extremely careful and yep, we flew to Tokyo on the 27th Jan!
Surprise #2 came at the airport when Koon went to check-in at United Airways and left me dumbly looking at the flights' screen, searching for the check-in counter of Airasia which I thought we'd be flying by. Yay to comfy flights ;D
We reached Tokyo on the same day.
After settling down in our abode that night, Koon informed me that he's booked a kimono package for tomorrow and I was like "WHAT? Really? Why didn't you tell me?!"
"Surprise ma...."
I guessed he knew this would make a good surprise because I kept complaining to him that the one thing we missed for the previous trip was the kimono. So this was surprise #3. I was even more surprised when he told me that makeup + hairdo and photography would be included. At this point of time, I felt things were getting a little bit weird and I kept pressing him for more details... then he replied, "It comes in a package la."
I did felt that things were fishy and the thought of a proposal did came across my mind but I didn't want to have any expectations. Besides, having a photoshoot in a kimono don't seem unusual... Many tourists do that too. So i eliminated all my weird thoughts and was like OK~ let's just look forward to fresh sushi in Tsukiji Market and shopping at Harajuku tomorrow! Coincidentally, the kimono studio is located in Harajuku so it fits in the itinerary pretty well.
Come next day, we had our breakfast at Tsukiji Market and headed to the streets of Harajuku as planned. We had to be at the kimono studio at 12pm "but we have to meet the photographer first". Ok, the story on the photographer is quite funny (and lengthy). To cut things short, Koon said that he didn't engage the Japanese photographer included in the kimono package as he was afraid of communication barriers. He separately engaged another photographer who is based in Tokyo and able to speak English.
So we met our photographer, Julian, at the first floor of the condominium (where the kimono studio was located) and we briefly said "Hi". I will share more about this later.
We went up to the kimono studio together and met the owner, Kahori and her mom (I forgot her name), as well as the hair and makeup stylist (I forgot her name too). Kahori laid out the different sets of Kimonos she owned and she shortlisted a few based on my favourite colour; blue. In the end, I chose the pink one.
Koon and Julian headed out to recce the photoshoot venues while I stay put to get my hair & make up done.
I really have to give it up to Kahori and her mom. Wearing the kimono requires so much patience and determination; for example, tying and ensuring the sash is at the right angle. Not so much effort required from me except that I was sucking in my tummy and keeping my posture up straight to look my best. Haha. Below the pink kimono is a white base layer + a light blue kimono-like piece that I had to put on. Not sure if this is the standard or because it was winter at that period.
The stylist was really sweet and attentive to make sure I was comfortable in my hairdo. She did not apply much make up on me as I already had mine on. After 2.5 hours, I was finally dressed in my Kimono! Everything was ok until Kahori asked if I wanted a different obi (the big ribbon/sash behind the kimono).
C: I think the current one looks pretty good!
K: Are you sure...? *continues to match a few other obi(s) with my kimono*

--after awhile--

K: I think we should change. It's an important day today and I want you to look your best.
Deng Deng. Important day. What important day? Her words triggered the curious bug in me. Why did she say that?! Kahori probably didn't know Koon had this as a surprise and thought this was a wedding photoshoot. I immediately texted Koon to find out what is happening and as expected, he did not reply. When he came up to the studio for his 'make up', he refused to divulge anything either.
The second time when I met Julian was the time when we were all done with our outfit and makeup, ready to head out for the photoshoot...
C: By the way, my name is Cammie. You are?
J: I am Julian.
C: Oh you are not local? *I thought he was Korean/Jap*
J: No I am not.
I turned to Koon immediately and said "I thought you engaged a local photographer?"
I think butterflies were fluttering in his tummy and he came up with funnier cover-ups. Hahaha. Everything was suspicious as it is and me, being the curious cat, kept bugging him for answers. As usual, he refuted my claims. Nonetheless, we headed to Meiji Jinggu Garden as planned :)
This was our 2nd time in Meiji Jinggu Garden.
I had many friends asking why I had that furry white neck wrap/shawl on me. Kahori suggested to match it with my Kimono. Partially because it was winter and it can help to keep me warm!
The Moment
- where the back-to-back pose happened again except this time round's legit-
I forgot what Koon said that made me turn around... I think he called my name so I turned. And when I saw him kneeling on the ground, I was at a loss for words. That was the moment where I felt unexceptionally emotional; and I said yes (;
After the shoot, I found out that Julian was actually refraining himself from talking too much because his accent would let the cat out of the bag. Hahahaha. And yes, he is a freelance Singaporean photographer that Koon engaged. That brings me to the point where I felt the first meeting was kinda unfriendly because he merely said Hi without even introducing himself. He was completely different before and after the shoot, in a good way of course! Super sociable fellow! Koon and I really enjoyed his company and were amazed by his professionalism throughout the shoot. Most importantly, we love how the photos turned out :)
A close up of our Kimonos:
Back at the studio, Kahori hosted the Traditional Japanese Wedding Tea Ceremony for us. I love how Kahori honoured the little details and took the effort to explain to us the meaning behind every aspect of the ceremony :)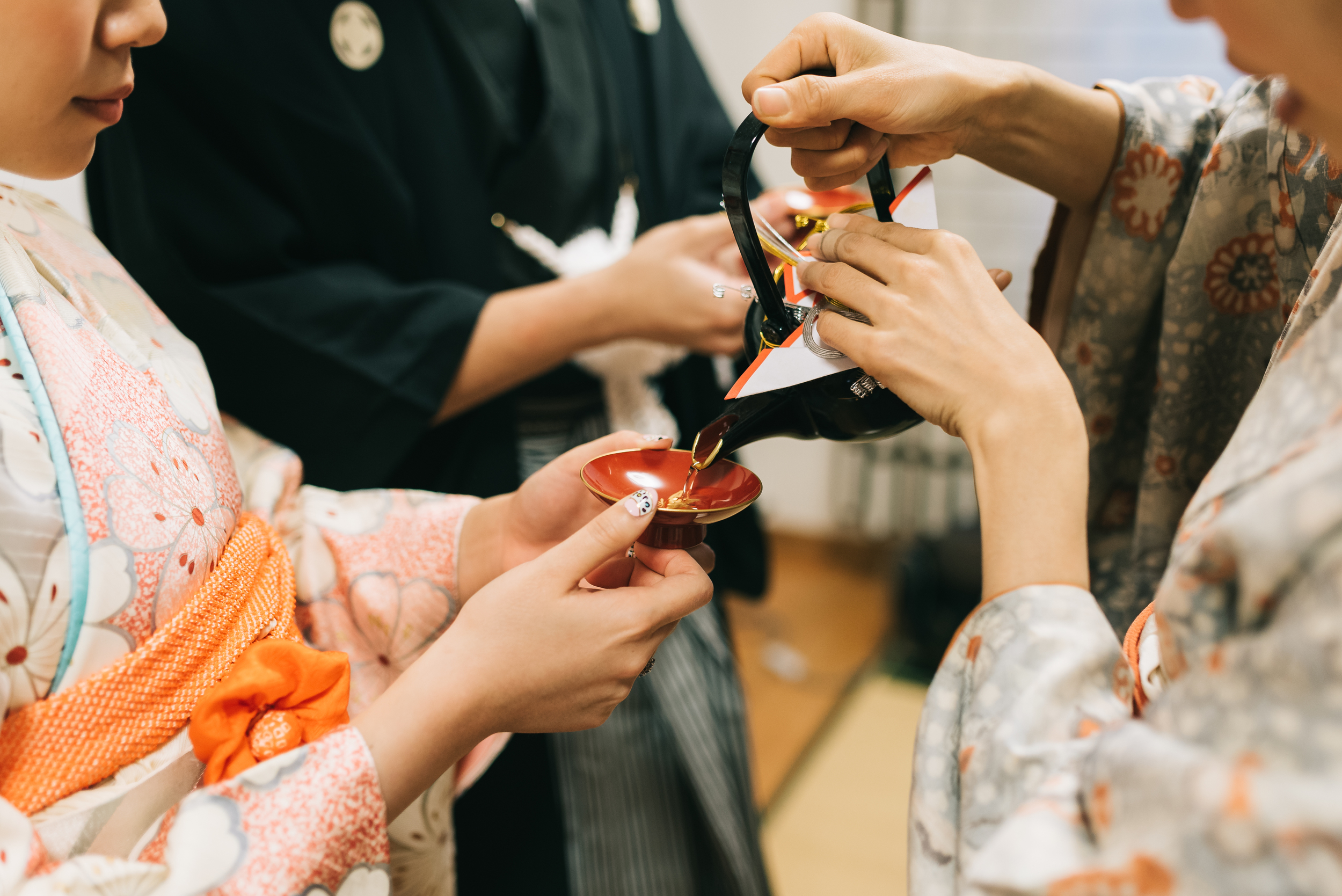 This is one of my favourite picture taken indoors. That's the Uchikake - The Japanese Wedding Kimono - on me. It's so beautiful and I am so glad to have a take on it :)
When I was younger, I always thought a flashmob proposal is the coolest thing a bride-to-be can ever experience and I even secretly wanted to be that 'lucky girl' in those viral flashmob videos. But as I grew older, I started to let go of that idea. Of course it is sweet, romantic and all but it will probably bring out the most awkward self in me if put at that situation. So, I ever hinted to Koon that if he ever intends to propose, please do not (and never ever) make it a big thing. I would very much prefer an intimate one instead. I feel very blessed at the way he made it happen without me feeling any inch of awkwardness.
This trip has got to be one of my best trips as it symbolise the start of a new phase of life with my other half. To the special one: no amount of words can give credit to the amount of effort you have put in to make me the happiest woman on earth (':
Photos by:
Julian Ong (http://www.15percentgrey.com/)